I debated for many years whether to buy this computer, starting with the first revision. Both versions have similar severe limitations: high price, limited processor, storage, memory, and connectivity. Of course, the point of the product is to draw on the screen in a "big" way, which for many customers means Photoshop work and Photoshop likes memory.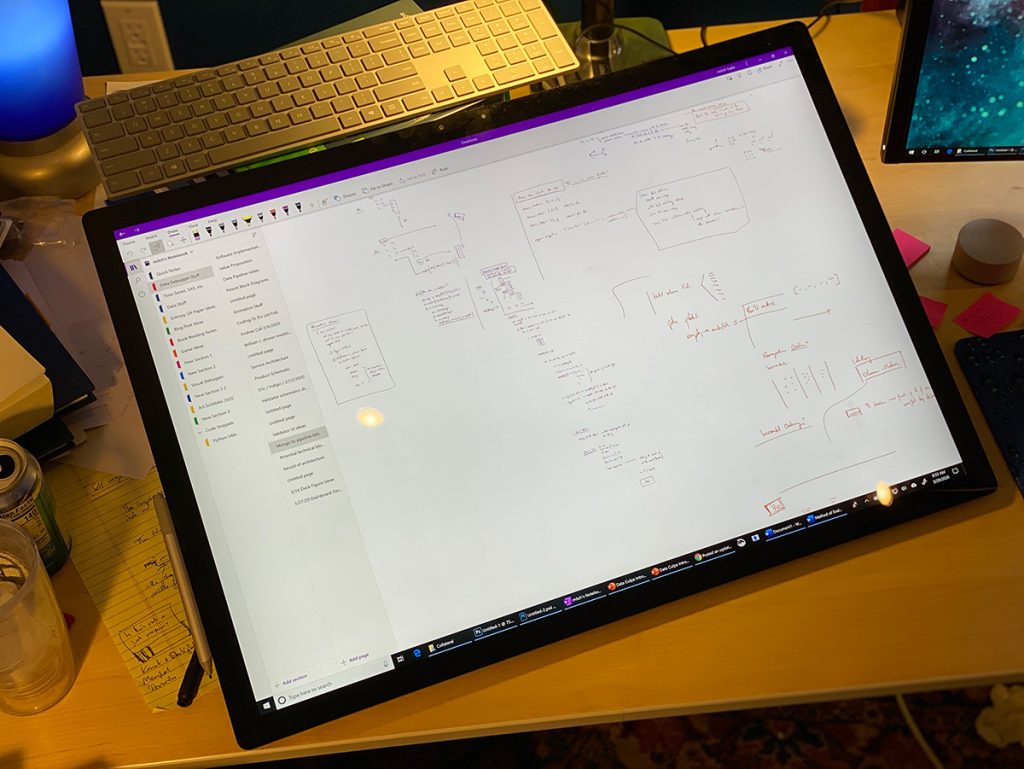 Earlier this year, I bit the bullet and bought the base model. I would have preferred the 32 GB model, but paying an additional $700 for an additional 16 GB of RAM and nothing else is simply not a good value.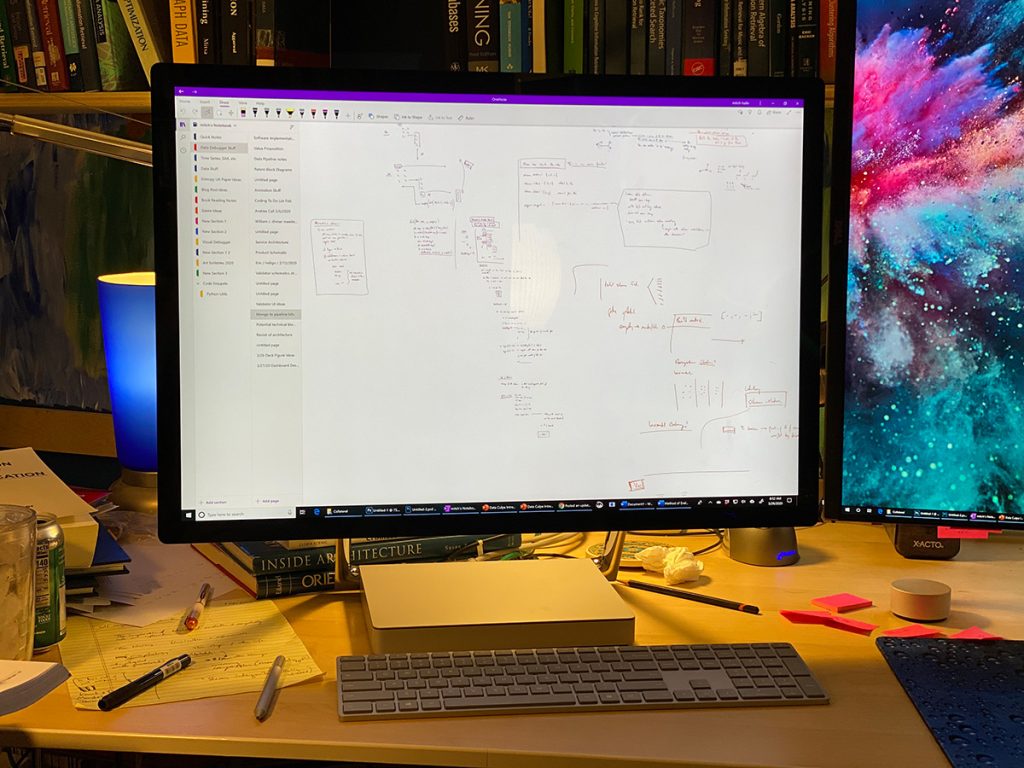 I've used the Studio 2 daily for many weeks now to augment my use of paper notebooks. I tend to do most of my thinking work by hand in lab notebooks and there are many limitations with paper: moving a drawing, erasing, undo, and the physical boundaries of paper come to mind. Zooming can also be challenging.
My main project has been working out algorithms and designs for a new set of data processing products. For the past few months, about 75% of what I'd normally do on paper I've been doing in OneNote and for the most part, it's been wonderful. I don't regret the purchase.
However, there are many aspects of the Studio 2 that are poorly thought out.
The keyboard is an "extended" keyboard with the numeric keypad. However, the use case for the Studio is pen and any extra footprint of the keyboard is just in the way.
The Studio 2 doesn't come with the Dial, which means it's pretty much a useless accessory. I bought one and it doesn't even work with Microsoft's own OneNote.
The screen doesn't go high enough on the stand when using it as a desktop. For my desk chair and table configuration, it's about 4-6″ too low.
When the screen is pulled down, where is one supposed to put the keyboard? There's an onscreen keyboard, which has gotten better in a recent Windows update, but it's not ideal. I put a stack of books behind the Studio so I can reach up and use the keyboard. I suspect this is the main reason Apple hasn't introduced a similar product.
The glossy screen is beautiful. It's also a mirror.
The computer often struggles to wake up with an external display connected, which means reaching around behind it to disconnect the external screen, wake the computer, and then re-connect it. There's really no excuse for this.
It's Windows, which means on random days when I come back to my desk, the computer has updated, rebooted, and all my state is lost. Microsoft continues to fail to understand it is my computer and not their computer; that my tasks are more important to me than their tasks.
USB-C is the only way to connect an external monitor. There's only one USB-C port.
The pen is a bit thin for my liking; I'd prefer something a smidge thicker. "Put a grip on it," you said. Yes, but that would prevent the magnetic storage from working (the pen stores on the side of the display).
A few days ago, I finally decided to write up my experience because Photoshop was lagging badly—to the point of being useless, on a small ~3000×4000 pixel document and using the brush tool. I ended up having to reboot the computer to get Photoshop performance back.
OneNote is my main drawing tool, and it sucks in so many ways. (I'm drawing designs and ideas, making notes and thinking, not making art.) Export sucks, printing sucks, there's no layer tool, etc.
I don't regret the purchase; I've been far more creative at a higher velocity in my work with it. I'd say it's still $1,000 too expensive for what it is, and a premium drawing tablet should come with 32 GB of RAM standard.
When Microsoft comes out with a newer model, I may upgrade.